The Best Budgeting Apps for College Students

Being a college student often means living on a tight budget. Whether it's managing your student loans, paying for textbooks, or just trying to have some fun, keeping track of your finances can be a real challenge. But fear not, because we've got your back with a list of some of the best budgeting apps designed to help you take control of your money. Let's dive in!
Kora:
Kora is an app tailor-made for college students. It's user-friendly and packed with features to make managing your money quick and easy. You can set spending limits for different categories, automatically track your expenses, and get personalized weekly reports with insights into your spending habits.

Kora recently launched a new feature, app, that goes an extra step toward helping you learn on topics like credit scores, taxes, and investing. With bite-size finance lessons, fun weekly challenges, and chances to win prizes, like cash and new tech, KoraCoach rewards students for becoming more financially iterate.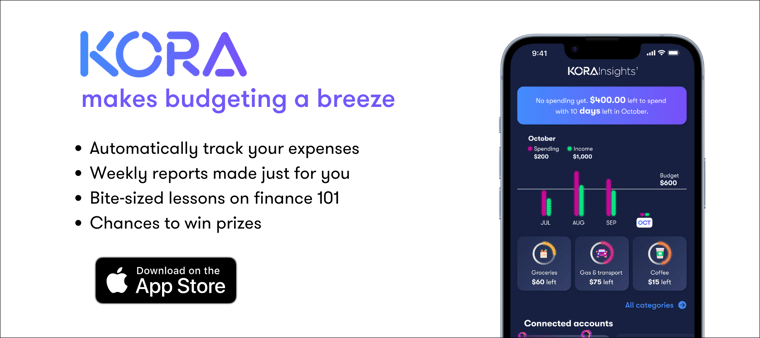 Mint/Credit Karma:
Mint is a popular choice for budgeting, but its parent company, Intuit, recently announced the app will be closing down. The company's recommendation for long-time users is to transition to Credit Karma, which helps with transaction and credit score monitoring, though it does lack the monthly and category budgets that many users enjoyed from Mint.
PocketGuard:
PocketGuard is another user-friendly app that's perfect for college students. It syncs with your bank accounts and credit cards, automatically categorizes your transactions, and shows you how much money you have left to spend after your bills and savings goals. It also offers insights into your spending habits and helps you find opportunities to save.
You Need a Budget (YNAB):
YNAB takes budgeting to the next level. As a college student, you get one year free, after that it's $14.99 per month or $99 per year. This app uses a zero-based budgeting system, which means you give every dollar a job. It's excellent for teaching you how to allocate your money for different expenses and savings goals.
Wally:
Wally is a straightforward and free budgeting app. It allows you to track your expenses, set savings goals, and view your spending patterns over time. The app also offers currency conversion and the ability to scan receipts, which can be handy if you travel or shop online frequently.
GoodBudget:
GoodBudget is like having the classic envelope budgeting method on your phone. You create virtual envelopes for different spending categories, allocate money to each envelope, and then spend from those envelopes. It's a simple, visual way to keep your spending in check.
PocketSmith:
While PocketSmith offers a more advanced approach to budgeting, it can be a great choice for college students who want to plan for the long term. It helps you forecast your finances, track your net worth, and understand your cash flow.


Conclusion
Remember, finding the right budgeting app is a personal choice. What works for one person might not work for another. Give a few of these apps a try and see which one fits your needs and lifestyle the best. The key is to start budgeting now and develop good money management habits that will serve you well beyond your college years.


Don't let financial stress get in the way of your college experience. With help from Kora, you can focus on your studies, enjoy your social life, and still manage your finances like a pro.