How to have a haunting, COVID-safe Halloween on campus
Students across the country are struggling with how to celebrate Halloween; many still feel unsafe celebrating in large gatherings like they did in the past. Here are some suggestions on how to remotely have a ghouling time on a budget.
1. Send anonymous ghost letters to friends
Odds are, you already have a letter and stamp laying around the house. Haunt friends you wouldn't normally be able to reach by sending them a haunted story in the mail. Put that creative writing course to use and conjure up a bone chilling story. Burn the corners of the paper (safely) or even spill a bit of red nail polish on it for a flair of drama. While you're saving the USPS, maybe check out these spooky stamps from their website.
2. Settle in for scary movie marathons
Some make a tradition of watching Freeform's 31 Nights of Halloween, but why not make the experience a bit more communal? DePaul senior Niki Sasiela has curated her own Halloween Movie List to share with friends. "I had the intention of sharing the list to connect with people," Sasiela said. "I've always had the tradition of watching Halloween movies, but this year I decided to share it to spread the spooky spirit!" You can even watch some of Sasiela's list with friends through the Netflix Party extension.
3. Keep tabs on the local specials
Restaurants and bars--if you're of drinking age--typically have Halloween specials. So, you can hit two birds with one stone by supporting local businesses while indulging in a spooky meal. This one is more of a splurge than the others; make sure to scale back on some of your spending goals in the Kora app in order to make room to take advantage of local Halloween delicacies. If it's not in the budget this month, you can always bake some Halloween treats at home!
4. Fill out your candy ranking bracket
Sit down with your family or roommates and try (emphasis on: try) to get through Click On Detroit's Halloween Candy Bracket. It might seem wholesome, but don't be surprised when emotions start to bubble to the surface as you fight tooth and bone for Twix to edge out Nestle's Crunch in the third round. Not only will this transport you back to trading candy as a kid, but your dentist will thank you.
5. Make the group social media drop
Once you hit college age, organizing group costumes with friends becomes an extreme sport --and for what? A blurry picture? Being remote offers a unique opportunity to coordinate a group "costume" with each person's individual flair. Pick a subject, coordinate with friends, create and capture a makeup look, full costume, Photoshop edit, or whatever medium you desire, and drop your looks on a common social media at the same time. Get creative, lean into the extra!
Halloween is a sacred part of the college experience. It's important to look at the circumstances of staying at home as not a limitation, but an opportunity to test your creativity. Have fun, stay safe, and have a horrifying 31st!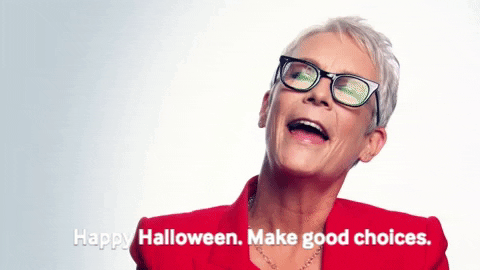 via GIPHY