Between Thanksgiving, Black Friday, and Cyber Monday, your bank account might be feeling as light as someone on a Keto diet. Now that your leftovers are gone, the Kraft Mac & Cheese in the cabinet might not look too appetizing, especially compared to Grandma's homemade mac. We're here to help you turn your dishes from basic to bomb-af with some simple recipes. You'll never need to start from scratch again with these amazing alterations.
Bacon, Brie, and Mushroom Mac & Cheese (+ more!)
There are a whopping six different variations of boxed mac from Tasty, but you'll definitely want to try the Bacon, Brie, and Mushroom variation. A juicy twist on a classic dish, Bacon, Brie, and Mushroom Mac & Cheese takes common household ingredients to make a tasty (see what we did there?) treat for the whole family, although you probably won't want to share.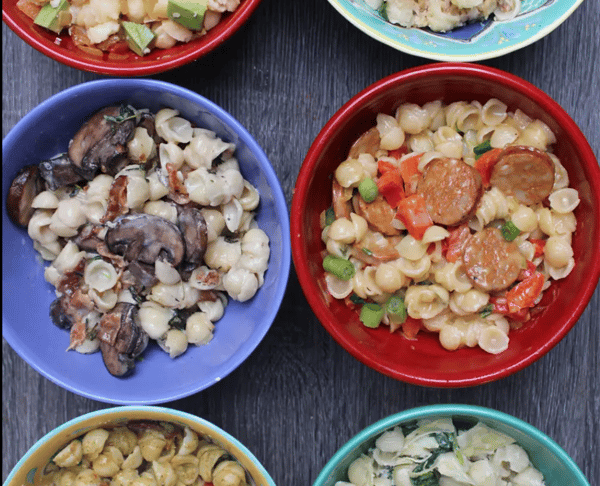 Photo credit: Hannah Loewentheil/BuzzFeed/Tasty
What you'll need:
1 6 oz box mac 'n' cheese
3 tbsp milk (any kind)
2 tsp butter (optional)
2-3 strips bacon
8 ounces Brie cheese, rind removed and cheese cubed
1 cup mixed fresh mushrooms (cremini, portobello, or shiitake), sliced
Kosher salt
Freshly ground black pepper
Fresh thyme, leaves for topping
A staple dish in a variety of cultures, rice and beans on its own is pretty good, especially as a side dish. However, once you use this Spanish variation from Dishing Out Health, this staple transforms from average to amazing! A one-pot dish, you won't need to worry about a massive cleanup, and this can easily be made for multiple days at a time. The best part? This dish uses whatever food you have in the refrigerator - no need to go out and buy specific ingredients, as you can substitute to your liking.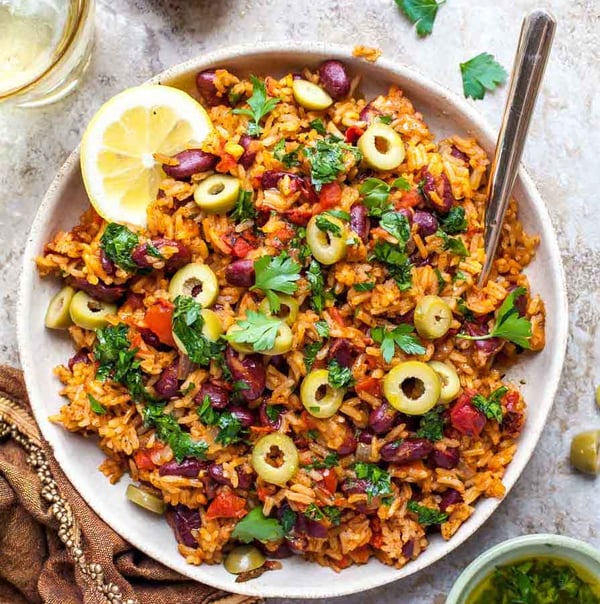 Photo credit: Jamie Vespa, Dishing Out Health
What you'll need:
Rice (white or brown rice suggested)
Canned Beans (kidney beans are suggested)
Aromatics (onion, garlic, celery, chopped carrots, etc)
Fire Roasted Canned Tomatoes
Spices (chili powder, paprika, oregano, and cayenne)
Olives
Parsley
The great Gordon Ramsay has blessed us with an easy variation of scrambled eggs. Using only three ingredients, your breakfast will be bolder, brighter, and more beautiful thanks to this recipe. If you've ever dreamed of eating a meal prepared by a 5-star chef, this is your chance to experience the culinary excellence you've been craving, all in the comfort of your own home.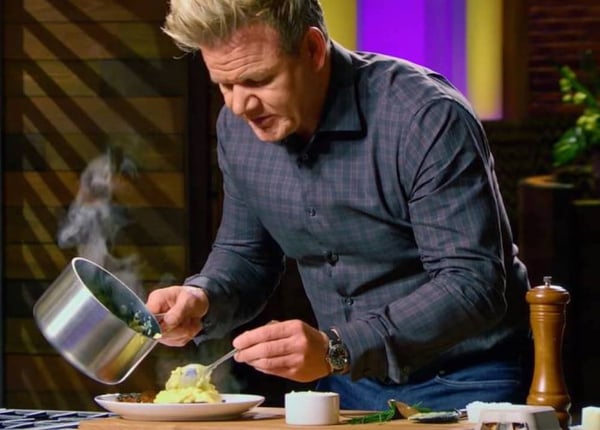 Photo credit: www.gordonramsayrestaurants.com
What you'll need (from Gordon Ramsay Restaurants):
6 Eggs
15g Butter
Salt & Pepper
Crème fraîche
Chives
These three recipes will make it easy to flip your common pantry foods into gourmet meals. With winter in full swing, it's the perfect time to stay warm inside and clear out those cabinets.