This Black Friday, in addition to rounding up all of the best deals from household brands, we've taken the liberty to curate some great spots to shop with underrepresented business owners! If you're looking to splurge a little for a special gift, check out these stores and their stories below.
@Twitchywickywoman on Instagram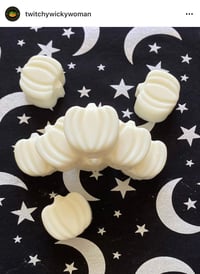 What is it?
Vegan, soy wax candles
Who is Twitchywickywoman?
Twitchywickywoman, otherwise known as Lexi, has Spinal Muscular Atrophy (SMA), a degenerative disease which has sitting in car seats inaccessible. In efforts to raise money for a handicap accessible van, Twitchywickywoman releases handmade candles and wax melts in occasional "candle drops". In her Halloween drop, Twitchywickywoman released unique scents like Poison Apple and Pumpkin Caramel Crunch. Her latest launch entitled Season's Screamings dropped Saturday, Nov. 21.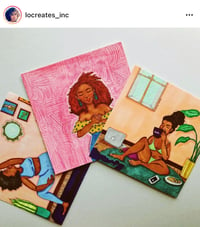 What is it?
Original and custom illustrations, crafts, and creative consultations
Who is Locreates?
Chicago-based Lauren Jackson utilizes her interdisciplinary experience in the arts education non-profit industry and the tech industry to work with self-identified women creatives to develop a strategy for working towards their purpose. Lo Creates's illustrations for children, specifically, center around joy, simplicity, wellness, and representation for young women of color. Lo Creates is taking commissions through Dec. 1, so make sure to go to the Custom Illustration page on her website if you're looking for a holiday gift! You can also find Lo Creates on Instagram @locreates_inc.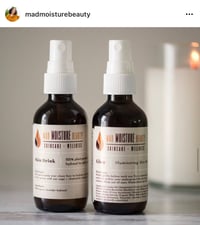 @madmoisturebeauty on Instagram
What is it?
Moisturizer and other wellness products
Who is Mad Moisture Beauty?
Iraqi War Air Force Veteran and new mom, Shera, got the idea for Mad Moisture Beauty's hero product out of her own genuine need for a lighter moisturizer. The "warehouse" started in her own studio apartment and is now half of her daughter's nursery. Don't miss out on saving 10% through Friday, Nov. 27 with the code MOISTURE. You can also find Mad Moisture Beauty on Instagram @madmoisturebeauty.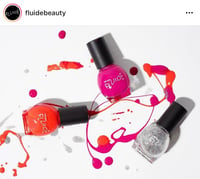 What is it?
Vegan, cruelty-free and paraben-free cosmetics
Who is We Are Fluide?
We Are Fluide is an all-inclusive beauty brand designed for all skin shades and gender expressions. With the goal to showcase and celebrate gender-expansive beauty and the creativity of underrepresented faces and voices, this small business based in Brooklyn also showcases many stories of their community on instagram @fluidebeauty. Make sure to check out the varying sales on their website right now for Black Friday!
Show your local businesses love, too!
Now more than ever it's important to support the small businesses in our backyard, too. Look into getting a loved one a gift certificate to their favorite boutique or salon! It's more personalized, and it's also better for the environment. Trash output in the U.S. goes up 25 percent during the months of November and December, so you're not only helping businesses during a strenuous time, but you're also helping the planet.
What's most important to note when shopping thoughtfully is that the journey to becoming a conscious consumer is not a straight line. If you've really been eyeing those slacks from Urban Outfitters, go for it, but also consider other avenues of shopping. Enjoy the holiday season, and if you need a little extra cash, download Boro and see how much you can get with KoraCash!